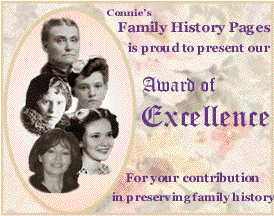 "I very much enjoyed my visit! You have obviously invested many hours in the research and composition of your family history and have created a very interesting and informative website to share this information. I applaud your efforts!...Keep up the GREAT WORK!"
- Connie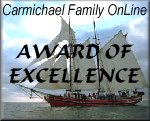 "Your site is most deserving of our award. I would be proud to add your site to our winners list."
- Matt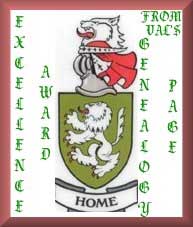 "It is with great pleasure that I give you this award...You have a wonderful website and certainly deserve the award."
- Val

"Congratulations!!...Your site definitely qualifies for the "Critical Mass Award". A very nice site, excellent design, clever original graphics & artwork, and you have provided your visitors with content that is informative, entertaining, presented well and easy to access. A worthy tribute and a positive contribution to the Web."
- Bill
Critical Mass