My McDowell Family
|
home




The Ruthven Raid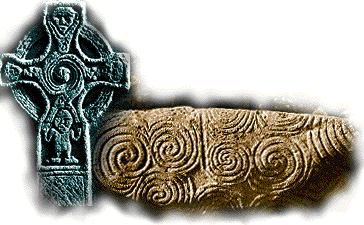 The Event that precipitated our family's flight from Scotland to Ulster, to some degree, was the Ruthven Raid and its aftermath. In the so-called Raid of Ruthven, the Earl of Gowrie and some of his fellow-nobles (possibly including
Ucthred Macdowall, 10
th
of Garthland
who was implicated as a conspirator) seized the young King James IV and, for some ten months, held him captive. In 1581, Esme Stewart was created Earl of Lennox. He was in support of Queen Mary and acknowledged Catholic concerns at a time when the Reformation was well established in Scotland. The Presbyterians believed Lennox to be an agent for the Counter-Reformation and a Catholic spy.
Although both the King and Lennox had declared themselves for the Reformation, rulings made and appointments given by James, particularly those overturning General Assembly proceedings, had the Presbyterians convinced he was being influenced by Lennox. William Ruthven, 1st Earl of Gowrie, was the head of Scotland's militant Presbyterians. Such was their fear of Lennox being near the King they staged a coup. While the King was hunting in Atholl in August 1582, he was abducted by Gowrie and imprisoned in his House of Ruthven until, the next morning, he signed a document proclaiming himself to be quite free and that Lennox was to be banished from Scotland. Gowrie led a new government which gave the Presbyterians ruling powers, all the while keeping James their captive. Lennox, who had moved back to France, died in 1583.
Taking advantage of this, these nobles virtually ruled the country, making friends with England and distancing Scotland from France. They passed laws against the Papists, favoring the Protestant ministers. But with the young king's escape from his captors the situation changed. Believing that the ministers had instigated the Raid, the King turned his wrath upon the (Scottish Presbyterian) Church. Then in June that year the young King escaped from his imprisonment. Gowrie was charged with treason and beheaded.
Uchtred Macdowall, 10
th
Laird of Gartland
was implicated in the conspiracy (Ruthven Raid). It is not known what part Uchtred played in the conspiracy, it was sufficient for him to require a royal pardon in 1584. Uchtred Macdowall had retoured before the High Sheriff at Wigtown, on 29 February 1548, as son and heir to
John Macdowall of Garthland
slain at Pinkie Cleugh, universally reputed chief of the name and had Bonds of Manrent from MacDouall of Logan and MacDowall of Freugh and others as their chief. Uchtred entered a feud with Lochinvar upon the murder of Gilbert Macdowall of Barjarg. Uchtred for his part in the Ruthven Raid was called to trial but had his summons deleted by the King's warrant, 19 August 1584 and had a fresh charter from King James VI of the Baronies of Garthland and Corswall.
Under the administration of the Earl of Arran, a subservient Scottish Parliament passed the legislation known as the Black Acts, making the king supreme in all causes and over all persons. The General Assembly was forbidden to meet without his permission, and the effective jurisdiction of the Church was lodged in the Episcopal body. Thus, the supremacy of the Crown was asserted over the Church as well as the State.
King James subsequently sensed his dependence upon Presbyterian support, and repealed the Black Acts in 1590, and declared himself in favor for the Reformed Kirk, which he now praised as "the sincerest Kirk in the World." However, the king's sincerity was lacking, and he soon re-asserted his supremacy in all the Church's affairs. The immediate cause of conflict on this occasion was a plot to overthrow the Protestant religion in Scotland. The principal agents of this conspiracy were the Earls of Huntly, Angus, and Errol. Their plans came to light in 1592, but the scheming nobles were treated with such leniency by the king as to give rise to the suspicion that he himself had Papist leanings.
The following details relate to Uchtred Macdowell, 10th of Garthland:
Uchtred Macdowall, 10
th
of Garthland
married 1st wife,
Margaret Kennedy
, the daughter of Sir Hugh Kennedy of Girvanmains, by his wife Janet, widow of Alexander Gordon, Master of Sutherland, and a daughter of John Stewart, 2nd Earl of Atholl, and had issue,
1. UCHTRED, 11th of Garthland, of whom presently.
2. Catherine, married the 4th Baron of Cathcart. He died in 1618.
3.
John
, a political exile like his father, came to
Gleno near Larne, Raloo Parish, County Antrim, Ulster
by 1595 where he married Mary Wylie. John was described as "the 7th son of Uchtred MacDowall, 10th of Garthland" by the genealogist Mary Semple and as his son from his 1st wife Margaret Kennedy. John Macdowall/McDowell fled Scotland to Ulster due to religious persecution as a Covenantor. It is from this John and Mary (Wylie) McDowell of Gleno that my family descends. (See "
Ulster Kith and Kin
".)
Uchtred the 10th of Garthland
married 2nd wife Margaret Stewart of Methven, widow of Alexander Stewart, Master of Ochiltree, and the daughter of 1st Lord Methven, and died abroad (France or Ireland?) in 1593, having by her had issue,
1. Margaret, married Sir John Vans of Barnbarroch, Member of Parliament for Wigtownshire, and had issue. Sir John Vans died in 1642.
Sources:
Semple, Mary; Family History of the McDowells of Wigtonshire, Scotland, County Antrim, Ireland and Kent County, Ontario, Canada; 1927.
Macdowall, FDH; The Macdowalls of Galloway.
Clan Ruthven.
McCrie, T.; Life of Andrew Melville: p.181.
Burke's Landed Gentry.
WARNING: All incidents of or attemps at SPAMMING by marketers via this website or via guestbook entries
are reported directly to the Federal Trade Commission at SPAM@UCE.GOV. Make no attempts to enter unsolicited marketing info or hyperlinks within this guestbook. It will automatically be reported to the FTC.